In this tutorial, you will learn how to make a catchy announcement bar with an infinite marquee effect and easily add it to your Shopify Store.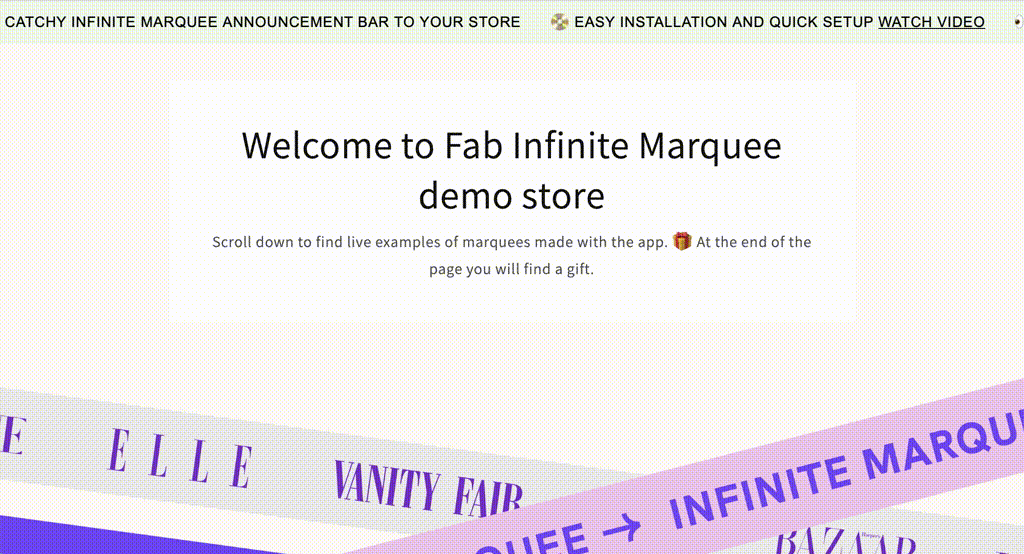 The best way to attract visitors attention to the promo message or announcement on your website is by adding a Marquee announcement bar. Use scrolling marquee to promote free shipping, new customer discount codes, flash sales, brand's advantages, show customers reviews, brands you sell and a lot more! Marquee announcement bar made by Marquee Builder is highly customizable and supports text, images, logos, icons and emojis! Additionally, the Fab Infinite Marquee Shopify app allows you to add multiple marquees on a single page.
👉 You can install Fab Infinite Marquee via Shopify App Store
Scroll down to find demo examples of marquees you can create with the Fab Infinite Marquee App.
Demo 1 — Shop Benefits
You can use Marquee as an announcement bar about free shipping, secured payment, and any other benefits of your store to build trust and increase sales.

Demo 2 — Ingredients
Use images and descriptions in Marquee to tell in a beautiful and catchy way about the ingredients of your product. You can place Marquee on the page you need and create and edit as many marquees as you need.

Demo 3 — As Featured In

Highlight the benefits of your products with quotes from mentions in the press.
Demo 4 — Image Feed

Create a beautiful insta or image feed to showcase your products or create social proof. You can make images clickable.
Demo 5 — Our Values
Show your values and benefits with a catchy marquee. You can use text with icons, emojis, or photos.

You can learn how to create and add such a catchy Marquee to your Shopify store in a few clicks in the video tutorial.
Try Fab Infinite Marquee Shopify App. And read more about the best examples of the marquee in our inspiration collection.

Share