Shopify apps are fantastic tools to help you build your online business: using apps it's so easy to add powerful features to your online store, improve it, and increase sales. There are thousands of apps but let's look at our hand-picked collection of the best Shopify apps every shop must-have in 2022.
We used 3 key criteria to make this selection:
The app must help improve customer experience and boost sales.
The app must have a beautiful, user-friendly interface and easy set-up process.
The app must have responsive and friendly support.
On each modern e-commerce store, you will find an Instagram feed. With such a feature, you can use your Instagram content to build social proof and convert your store visitors into customers. Moreover use can make your Instagram feed shoppable and convert visitors to paying clients. There are a lot of Instagram Feed apps on the App Store but we like this one in particular because of its simple and intuitive interface. 
A new must-have app that allows your customers to leave their feedback in one click, so they will help to improve your store with suggestions, bug reports, or compliments. As we know one of the key things for success is to know customer needs, their pain points and provide great service. You may have already noticed Feedback buttons on such websites as Adidas, Puma, Farfetch, Rituals and many more. With Fab Feedback button app such functionality is available for Shopify stores. App has a beautiful design and is easy to use, it works just after installation.
Creators promise that your customers will never take only 1 product again. Well, such an app will help a lot with that. Create offers, bundles and quantity breaks on your product from Shopify and increase your AOV. With WideBundle, change the appearance of your variants to create incredible offers directly on your product, discounts, bundles, upsells or quantity breaks and increase your Average Order Value.
Privy helps to grow Shopify online stores with website popups, email marketing, and SMS marketing all in a single platform. Design and launch pop up campaigns within minutes using drag and drop editor. Choose from spin-to-win wheels, countdown timers, shopping cart savers, and other pre-made pop up templates. Customize your pop ups exactly how you want so the right audience sees them.
Reconvert is our favorite all-in-one Upsell & Cross sell app. ReConvert empowers you to instantly boost revenue with one-click upsells, customized thank you pages, and more. You can show qualified customers targeted offers immediately after checkout to power-up your bottom line. The app has a simple set-up – No coding or technical expertise required. Also ReConvert provides 24/7 live chat support if you need help.
Looks is one of the best reviews app, we like it because of beautiful design and easy of use. Such app helps to boost credibility and sales with social proof. You can highlight your best product reviews across your store. Set up reviews as you want, choose from attractive customer review widgets – Grid, List, Carousel, Popup, Sidebar and cart page. App looks great on any theme, mobile-friendly & fully responsive.
Customers make purchase decisions quickly, and they are quick to dismiss a store they don't trust. You can enhance your business with trust badges, ensuring consumers that your store is secure and reliable. Ultimate Trust Badges app has 300 free badges to do that. You can match your store's design, customize your message, colors, alignment, size and more. App is easy to use you can customize the Ultimate Trust Badges without any technical experience with intuitive what-you-see-is-what-you-get settings.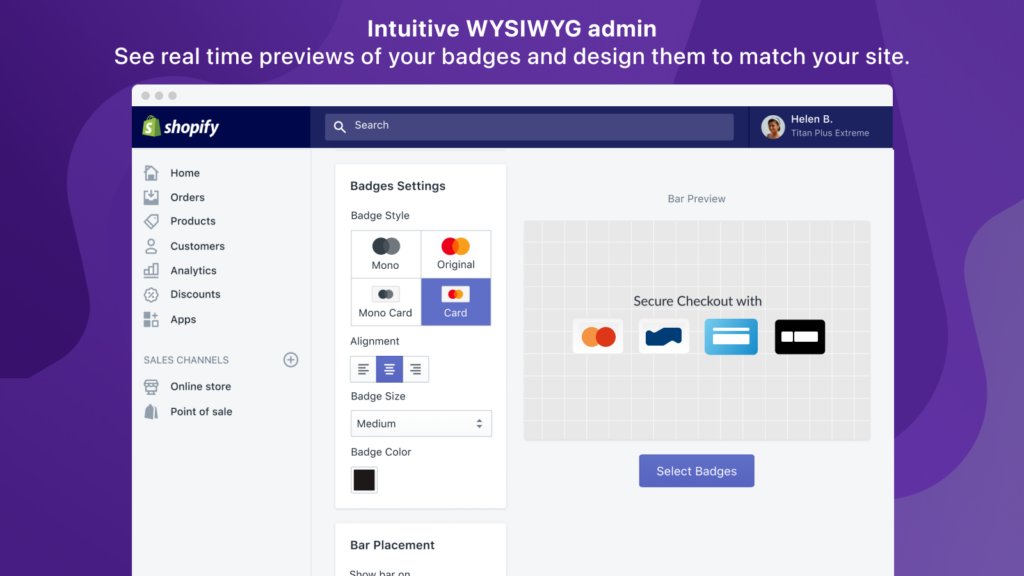 ReferralCandy helps Shopify merchants reach new customers, grow their brand through word-of-mouth, and build customer loyalty through a refer-a-friend program. You can also use ReferralCandy to run an automated affiliate program by offering a flat or percentage amount of cash reward as commissions for your affiliates. 

ReferralCandy is easy to use for both you and your customers. You can set everything up and get referrals in less than an hour. Your customers can easily earn store discounts or cash rewards by referring their friends There's no need to earn or redeem points.
Optimize image and other things automatically for almost pages to make sure your website meets Google Search best practices. We like that such app help to save your time and effort on optimizing your store. Just one click to install SEO manager and let everything run automatically. It is really helpful if you are not an expert in SEO.
With SMSBump, you can seamlessly grow your SMS & email lists, recover abandoned carts, and send revenue-driving texts and emails that boost your sales. Drive sales behind the scenes using pre-built workflows with texts and emails, to welcome subscribers, winback customers, recover abandoned carts, and so much more. Powerful SMS flows let your business run on autopilot. Your store syncs automatically with SMSBump to create hyper-personalized text and email campaigns based on customer shopping behavior, using products, prices, and more straight from your store.
Share